micro TTL Galilean loupes – Magnification: 2.5x – 3.0x

ErgonoptiX micro TTL (Throught The Lens) Galilean range of dental and surgical loupes
---
Designed for personal ergonomic comfort
An easy to use surgical loupe, just put it on and start working.
No adjustments (* personal IPD measurments needed during ordering)
Smaller & lighter than flip-up loupes
By removing the Flip-Up mechanism, and placing the loupes optics directly into the frames,
ErgonoptiX micro TTL loupes achieve the lightest possible weight (as little as 43 grams including the frames).
Providing a better view!
– Positioning the loupes optics as close as possible to your eyes, ErgonoptiX micro TTL loupes
provide an easier view, with a wider vision field and a crisp high definition image
– Placing the optics exactly at your personal IPD (pupil distance), the micro TTL loupes are
personally fitted to your needs and specifications so that they feel natural to use.
---

Lightweight: As little as 43 grams (incl. frame).

Maximum ease: Simply put them (no adjustments needed.

HD precision lenses: for superb clarity and reduced reflection.

Deep focus field: up to 200mm focus depth.

Personalized: Measured to fit you personally.

Wide IPD range: 52 – 66mm IPD available.
ErgonoptiX TTL (Throught The Lens) medical Loupes utilize the newest optics technology to deliver a smaller and lighter magnifying loupe, which still provides a superiour image.
With an unparalleled crystal clear view and an incredibly deep focus field, the ErgonoptiX micro TTL surgical loupes are currently top of the line in Medical Optics Technology.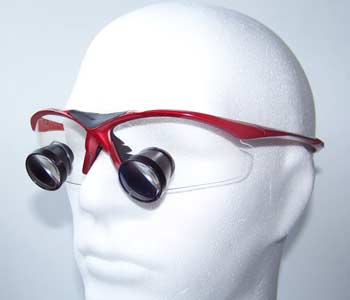 Working distance: 24mm – 70mm

Wide focus field: Up to 125mm

Extra Deep focus field: 200mm

Lightweight: As little as 43 grams

Easy Viewing angle: 45°

Pupil distance : 52mm – 66mm (Fixed)

Prescription lenses: Insert available
---
How to order personalized micro TTL loupes?
Measure (or ask your local optician to measure) your IPD values (instructions for exact details can be provided)
Provide your IPD details when placing your order
Choose your frame color
You are done!

---

---


---

* Included in basic loupes set: